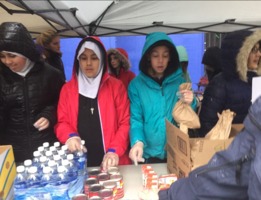 Two independent elementary schools in Richmond—the Az-Zahraa Islamic Academy and the Richmond Jewish Day School— bridge multiple barriers for a joint project every year.
First, they bring together Grade 6 and 7 students from the Jewish and Muslim faiths.
Second, they take these students to the Downtown Eastside, exposing them to residents in Canada's poorest postal code, where homelessness, violence and drug addiction are common.
Third, they have the students give back, by distributing snacks and warm clothing such as coats and hand-knitted scarves. Lisa Romalis, Vice-Principal at the Jewish Day School says the effort, which began six years ago, aims to teach the students the importance of tzedakkah, Hebrew for "doing the right thing."
Her colleague at the Islamic Academy, Vice-Principal Sukaina Jaffer agrees. "There's that initial shock and disbelief that, so close to home, there are people who have so little," she says. "But the kids have learned some amazing lessons and it's put into perspective how fortunate we are."
The program started six years ago and is carefully orchestrated to ensure safety and to maximize learning. Grade 7 students help prepare their younger colleagues by giving speeches before the big day. According to teacher vice-principal Lisa, "it's quite enlightening to hear what they say." This year, one child advised his classmates that some of the residents might come back for a second or third bag of food. "Don't say no," he advised. "They really need it."
Richmond RCMP accompany the students to the city and then Vancouver Police take over guardianship. Teachers were grateful for that extra protection this year when an armed man was hauled out of a car and arrested right in front of the students.
But a happier memory involved some First Nations drummers who showed up to play music for the students. "It was beyond beautiful," according to teacher Reesa Pawer. "They didn't need the food we were giving out — they just wanted to say thank you."
And, at the end of the day, a debrief session, involving all participants from both schools, teachers, the RCMP and copious amounts of pizza — both halal and kosher — helped the students put their recent experience into context. "Each time we get together, there's something we learn," says Sukaina.
In previous years, the schools had been able to distribute lunches thanks to support from Save-On-Foods. Lacking that sponsorship this year, they had to restrict themselves to juice-boxes, cheese-snacks and granola bars. But there's no question the program will go ahead next year.
Says Reesa: "It was my first year organizing and, because we lost our sponsorship, it was a bit difficult and I thought we'd do something different next year. "
"Now I think we need to do exactly the same thing next year," she says. "It doesn't end here."