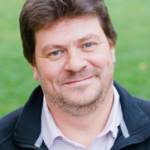 What do a Christian school, a Jewish school and a Waldorf school  have in common?
In fact, this is not a joke. They are all participants in FISA's Associate Members Society (AMS).
President of the AMS and FISA board member Arnold Grimm describes his group's diversity as, "wonderful but also extremely complicated".
Currently, the second largest association in FISA, (directly after the Catholic Schools Association), the AMS represents 140 schools and some 21,000 students. Formerly, individual schools had to join FISA on their own, which required board approval. Now, however, with recent changes to the BC Societies Act, anyone who wants to belong to FISA must join one of the member associations.
The Associate Members Society — diverse and with low fees of $3 per student — is the logical first place for many schools. "We are really a conglomerate of special teaching approaches," Grimm says, "but we also include schools of every faith."
A lifelong educator, Grimm has been involved with the Waldorf movement since he was a student himself. He taught in the Waldorf system for many years and then became a principal first at the Vancouver Waldorf school and then at the Whistler Waldorf.
Now his primary job is Director of Accreditation with the Association of Waldorf Schools of North American and he coordinates the accreditation of Waldorf schools across North America. To belong to the Waldorf family, schools must meet certain specific criteria. "I'm responsible for supporting and guiding the schools through that process," Grimm says. He also chairs  External Evaluation Committees for the BC Ministry of Education, ensuring that Independent schools meet the various government-specified regulatory requirements.
For Grimm, the work with the AMS and FISA is not a paying job — it's a voluntary one — and it presents a number of challenges arising out of diversity. For example, when FISA asks policy related questions about such issues as rules surrounding the hiring of teachers, each school is likely to have its own opinions. "For the other associations those types of questions are easier to answer because it's very clear what they do and don't want," Grimm says. "They can determine if it easily fits in with their mission. But you'll never get a single answer to a question like that from 140 different schools."
But for all the challenges, there are also many rewards. "In today's society, collaboration is truly important," Grimm says. "Also, a diverse group really makes for a high-quality professional development."
In terms of where Independent schools stand in the BC landscape, Grimm believes they are thriving and that old-fashioned rhetoric against such schools has no place in today's society. Through his work with Waldorf schools in the US he has seen the development of both Independent ones and public charter ones. "There used to be some challenges between them," he says. "But now they've come to the point where they say 'we both exist, let's work together.'  A lot of good can happen through cross-pollination if we're not constantly squabbling."